Regular price
$150.00 USD
Regular price
$179.97 USD
Sale price
$150.00 USD
Unit price
per
Sale
Sold out
Share
View full details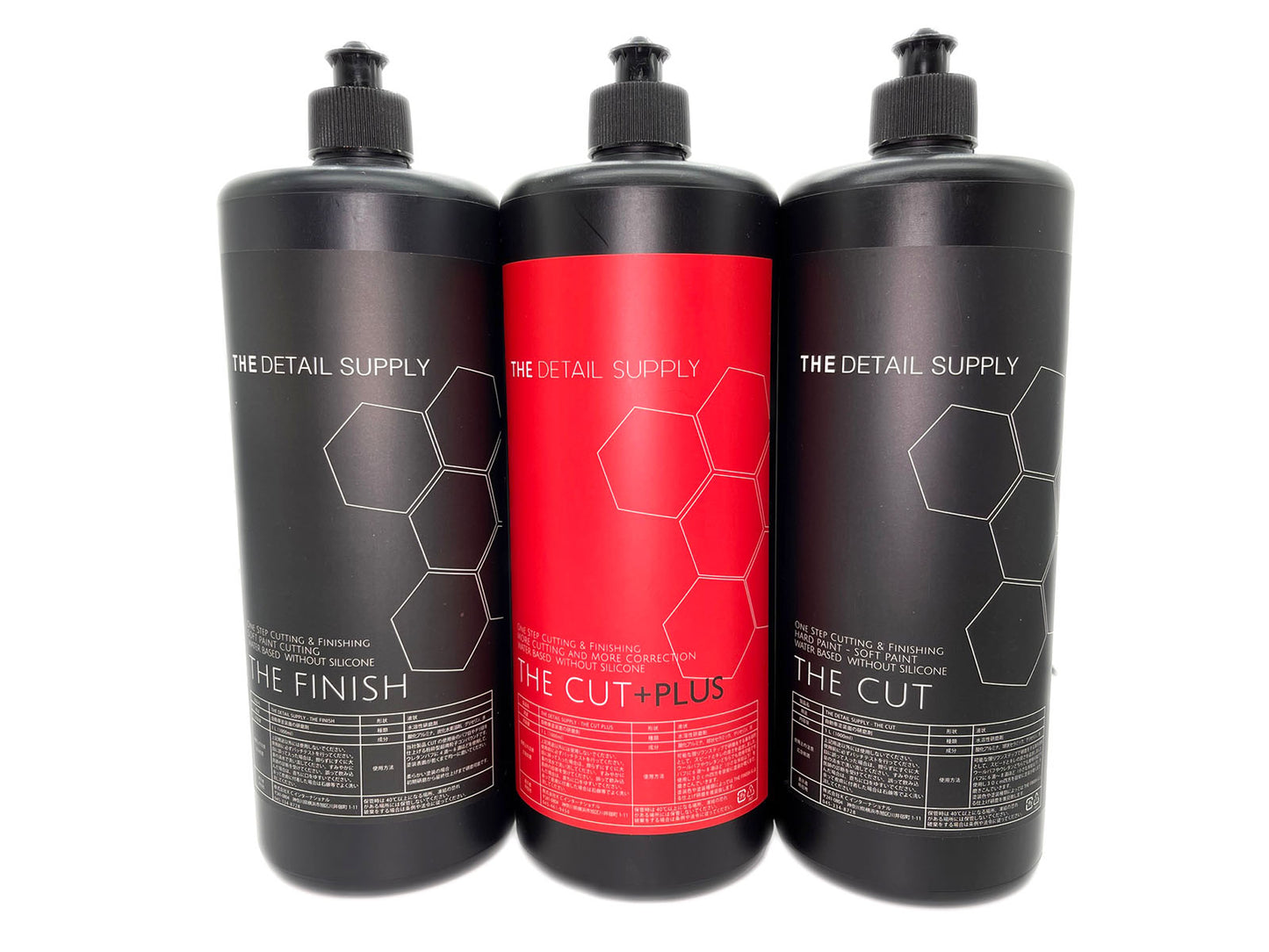 REGULAR PRICE: $179.97
SET PRICE: $150.00
THE DETAIL SUPPLY - THE CUT
The hard fine ceramics and oxidized alumina make it possible to polish as wide a range of surfaces as possible.
For light-colored cars, one-step polishing can be done with our GRAY MICROFIBER BUFF.
THE DETAIL SUPPLY - THE FINISH
Contains ultra-fine ceramic particles and pulverized alumina oxide for softer paints.
For soft paints such as TOYOTA 202 and NISSAN KH3, one-step polishing is possible with our BLUE FOAM BUFF.
For finer finish, we recommend ICHIBAN FINISHING BUFF.
Only a small amount of a few grains is needed for a sharp finish.
THE DETAIL SUPPLY - THE CUT - PLUS
For harder grinding than THE CUT. And designed with more point pressure polishing.

Hard fine ceramics and alumina oxide are blended to enable polishing in the widest possible range.
One-step polishing is possible with our GRAY MICROFIBER BUFF for light-colored vehicles.

*It is recommended to use this product after matching with soft or low-density paints because of its aggressiveness.
Also, depending on the paint, it may be easy to buff.
On the other hand, it has an excellent matching range for hard paints of European cars.
Please understand that this product is more abrasive and aggressive than THE CUT.
Differences from BANZAI DYNAMICS
The difference between THE DETAIL SUPPLY and BANZAI DYNAMICS is that BANZAI DYNAMICS is based on the theory of compounds for beautifully finishing painted surfaces.
THE DETAIL SUPPLY is a low-priced polishing compound with upgraded basic performance necessary for polishing paints.
It was developed in Japan with "sharpness" in mind for the Japanese market.
While having cost performance and quirky characteristics,
In one step and water soluble compound yet buffing marks does not return.
The DETAIl SUPPLY brand has released a compound that fits the competitive market.

Content: 1000ml x 3 bottle
Country of origin: Korea