Regular price
$114.00 USD
Regular price
$155.00 USD
Sale price
$114.00 USD
Unit price
per
Sale
Sold out
Share
View full details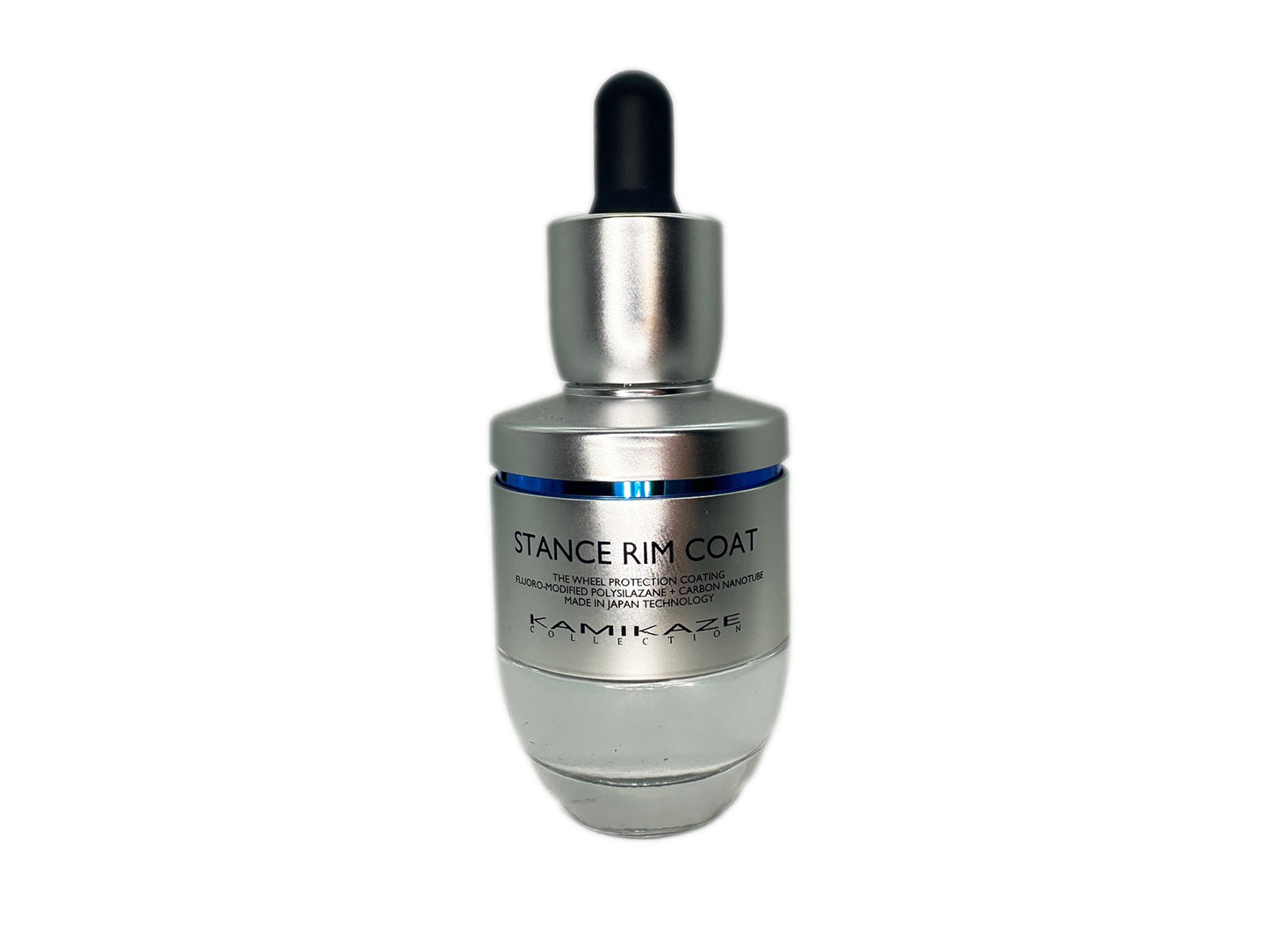 The revolutionally Kamikaze Collection's STANCE RIM COAT is now updated to 4.0
The best water beading with the strong chemical resistance.
Outdoor friendly easy application.
Do not require multiple coat! 1 layer is enough!
Japanese Flurine Polysilazane technology.
2 sets of wheel can be applied with 30ml bottle.
Easier and more reliable
Even with good  raw materials, it is the ease of application that ultimately determines the perfection of the product.
STANCE RIM COAT is made with a slow curing solvent base to ensure stable fixation and cross-linking after application.
Therefore, it is easier and more stable to apply than the conventional 3.0.
Modified Fluorinated Polysilazanes

Why polysilazanes rather than siloxanes for wheel coatings?
The reason is that many wheel coatings are made of hard clear paints.
The molecular size of polysilazane is small when using solvents and crosslinkers that can penetrate it easily.
Polysilazanes are easily diluted and dissolved in strong solvents and additives.
In this regard, we have been using fluorine-modified polysilazanes for ENREI COAT since 2015,
We have decided to reintroduce the product to the market based on our experience with ENREI COAT in 2015 and the fact that the product has finally been distributed in the overseas market.
Modified fluorinated polysilazane (perfluorinated polyether modified polysilazane) is the most expensive additive and fluorine material for body coating, and is one of the materials developed in Japan.
It is highly reactive and has excellent water and oil repellency, surface slickness, and dirt wiping properties.
Use: Wheel coating (chrome plated and polished wheels can be applied), protection of metal surfaces such as mufflers and suspensions
Direction
(1) Clean and prep the area to be coated completely.
(2) Add an appropriate amount (a large amount for initial application) to the applicator provided.
(3) Apply in a straight line so that the layer becomes as thick as possible. Wipe up with a microfiber towel when the surface film is scaled or completely volatilized (about 2 to 3 minutes). It takes 2 hours to cure. Complete curing time is 72 hours.
Content: 30ml (for more than 8 wheels)
Main ingredients: Modified fluorinated polysilazane, inorganic polysilazane, inorganic solvent
Manufactured in Japan