Regular price
$114.99 USD
Regular price
$160.00 USD
Sale price
$114.99 USD
Unit price
per
Sale
Sold out
Share
View full details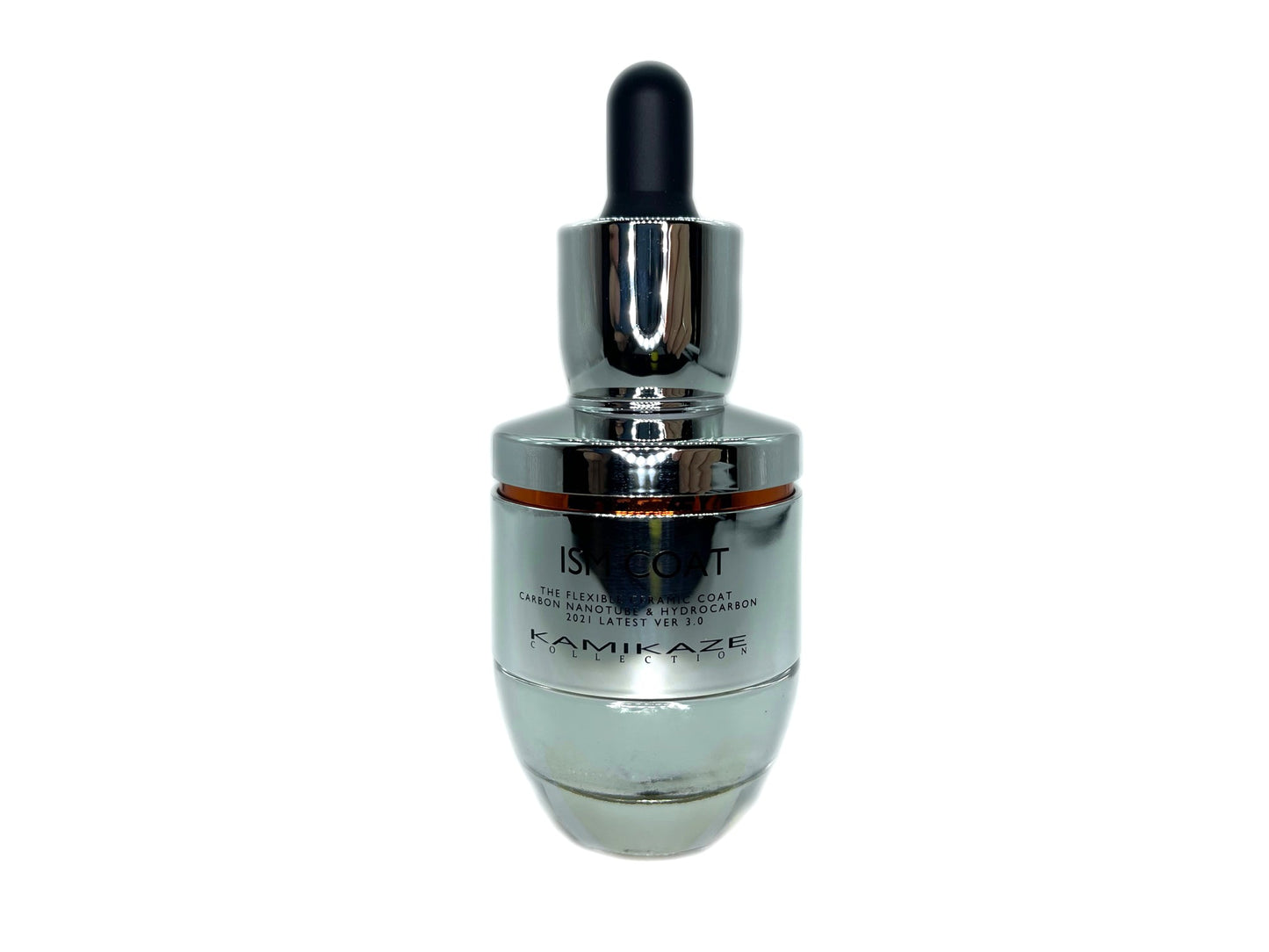 OUTLET VERSION has excessive carbon nanotubes which doesn't effect performance. 
ISM COAT Chapter 3
Five years have passed since the first ISM COAT was sold across the ocean in the United States.
At that time, glass coatings and ceramic coatings were in a state of flux, and
All brands were selling hype words such as "9H" or "10H" and claims of several years warranty were mainstream in the market.
In the midst of such a time, we dared to make the opposite statement: "Softness, not hardness of 3H to 4H" and "Duration depends on maintenance".
We made a Kamikaze attack on the market with the opposite approach, so to speak.
Several years have passed since then, and when the hardness of 9H was questioned, ISM COAT was highly evaluated.
ISM COAT, and even after the debut of 2.0 I think we can say that the reason why the old 1.0 is still popular in the U.S. market even after the debut of the 2.0 is that it is the result of a Japanese-made product competing head-on with the market.


Carbon nanotube compound

Although the organic/inorganic hybrid coating of the previous 1.0 was highly regarded for its aesthetics, it was not suitable for cold climates in Europe and the northern part of the UK.
In cold regions of Europe and the northern part of England, the speed of deterioration due to damage from snow-melting agents was a weak point.
The previous version 2.0 boasted outstanding protection, but was very difficult to install, and was not suitable for DIY, outdoor, or easy installation.
It was a product for DIY, outdoor use, and users who wanted easy installation.
The new 3.0 is a new product that contains carbon nanotubes, the latest nanoparticle additive, to improve bonding.
3.0 has improved the bonding property and realized easy installation.
The conductive material also prevents the painted surface from being charged, making it highly effective in preventing stains.


ISM COAT installation procedure.

1. Shake well. Carbon nanotubes may precipitate.
*Remove hardened crystals from the glass container. Assemble the sponge and applicator cloth.
2. Apply the product to the applicator cloth so that they cross in an "X" shape.
3. Apply one coat in a straight line from top to bottom. If the coating is difficult to apply due to incompatibility with the paint, cross the applicator cloth horizontally, vertically, and horizontally.
4. Allow 1-3 minutes to wait
5.Wipe off excess with a microfiber cloth.
We recommend our HAYABUSA MF TOWEL for application.

Wet application is also possible.
Spread the coating when the painted surface is wet or by water spray.

*1-2 hours drying time is required.
*2 coats are recommended for flat areas such as hood and trunk.
*Recommended Application Environment Temperature: 15-25℃ Humidity: 40-70%. I
*Recommended infrared heater setting: 70-75°C for 10-15 minutes (each panel)


Comes with : Applicator block, Applicator cloth, dropper

Made in Japan