Regular price
$155.00 USD
Regular price
Sale price
$155.00 USD
Unit price
per
Sale
Sold out
Share
View full details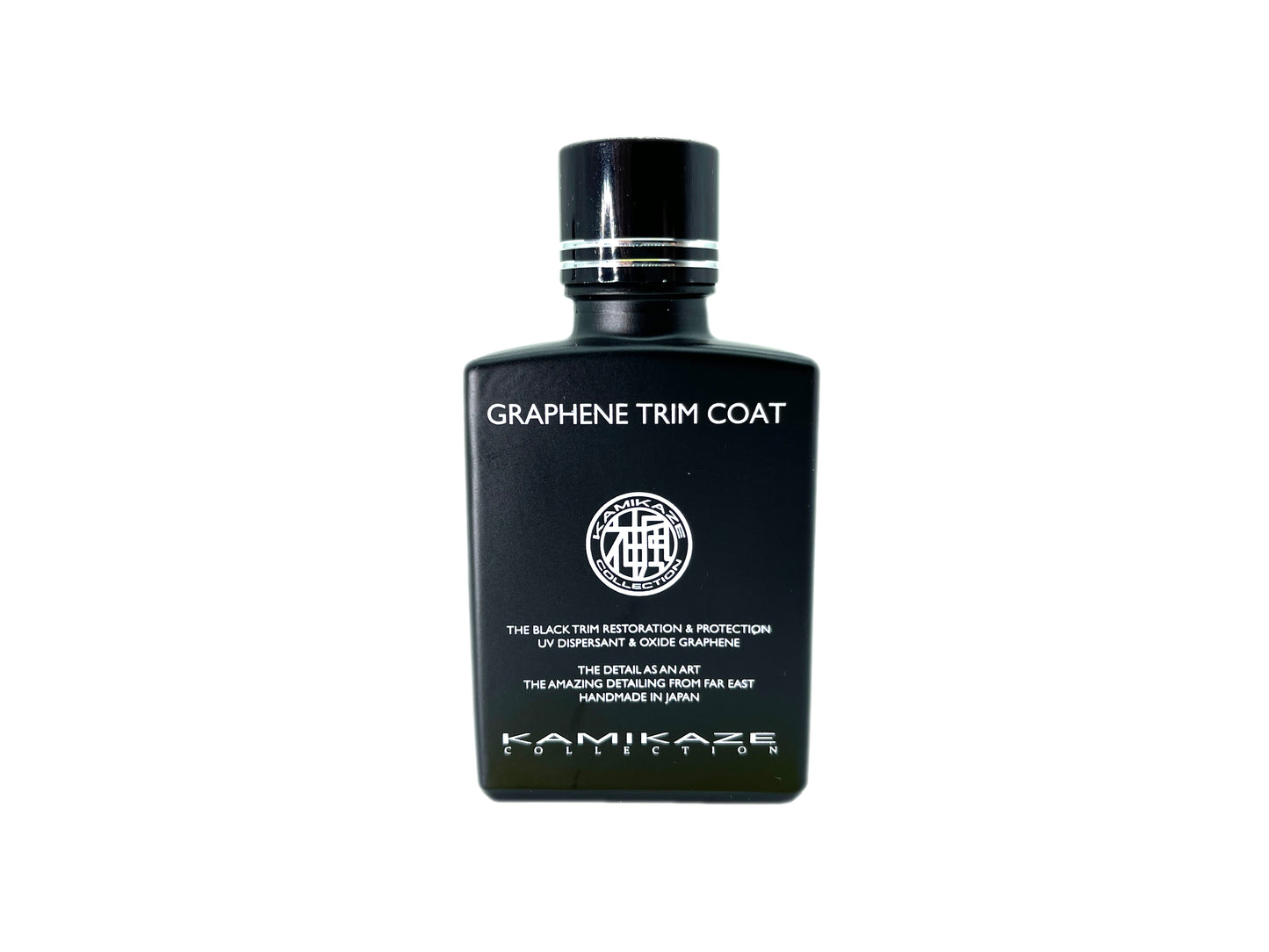 Graphene and carbon nanotubes infused Coating exclusively for black plastic trim

Graphene and carbon nanotubes have attracted attention as Nano-materials.
Graphene and carbon nanotubes are added to the surface of black trim to promote bonding and to remove static electricity from black resin areas that are susceptible to static electricity.
With its high conductivity and advanced leveling properties, even a Nano-level ultra-thin film exhibits sufficient antistatic performance.

A true kamikaze super water repellency

We believe that water repellency is only a byproduct.
This is a byproduct of combining high-quality materials and cutting-edge materials.
Coated layer is so thick that it cannot be physically removed unless you scrape it off with your fingernails or sharp objects.
It provides stain resistance against pollen, tree sap, and any other object contamination, including blower after car wash.

Delayed deterioration of the film due to UV adsorbent

Whitening of black resin parts is caused by ultraviolet rays.
Over a long period of time, the molecules in the surface layer of the black resin deteriorate and break down, and after a certain period of time, the resin deteriorates at once.
We have added an adsorbent to the siloxane resin film that prevents or delays the breakdown of the film in response to ultraviolet rays.
This makes it more durable to ultraviolet rays than general hardening resin types.

Exquisite self-leveling properties

What makes this product different from older products is that it does not require wiping off.
The development of this product has been carried out many times with an emphasis on leveling performance that does not require wiping off as much as possible.
The development of an extremely thick hardened film is in line with our philosophy that a physically thicker film is better able to protect the object as a sacrificial film than a chemically protective film.
Of course, the application requires some "tricks" such as applying at a certain speed and pressure, but the formation of a thick film in all aspects is an advantage in protecting the object.

Black texture of the film as restoration

For black trims that have already deteriorated or surfaces that have deteriorated over time, the texture can be restore within an hour to a blacker than new texture.
If you want to reduce the glossiness, we recommend wiping it off within a few minutes after application and applying several coats.
Thick film, which is not possible with conventional black plastic coating or diversion of body coating, etc.,

Anti-static properties will change the driving experience.

If you are sensitive to the information that the car transmits in your daily driving, you will be able to feel the lightness and stability of the car after the application.
This is because black trim parts (plastic and other resin parts) are generally susceptible to electrostatic charges.
The surface resistance of these parts is lowered to maintain their antistatic properties for a long period of time, and this causes a large difference when you grip the steering wheel.
We have actually felt this as a byproduct.
There are individual and vehicle differences.

After use, the product can be stored for up to one year by corking the bottle. Be sure to put the inner cap on when storing.
After use, the applicator is completely cured and cannot be reused.
*If an application error occurs, please remove the applicator by rubbing it several times with a magic sponge and a strong detergent such as alkaline detergent (*black resin part).
*If it accidentally adheres to the painted surface and hardens completely, please polish it.

Product use: coating for plastic trim of the car
Ingredients: Alkoxyloxane, UV adsorbent, graphene oxide, carbon nanotubes
      graphene oxide, carbon nanotubes, special curing additives
Contain: 30ml
Country of origin: Japan
Precautions
Do not drink as it is harmful to the human body.
Keep out of reach of children.
Do not work in the hot sun.
Use in a well ventilated area.
Keep away from fire.